216 Software prides itself on its ability to communicate with clients in a manner that doesn't rely heavily on technology knowledge. If we're doing our jobs well, we'll be able to explain to you the technology needs of your problem without spitting out programming languages or buzzwords you don't understand.
Sometimes software developers like to make sure their clients stay out of their comfort zone by using scary terminology. The only thing this engenders is distrust and bad software solutions. We want you to understand what we're building for you, and we want you to enjoy working with us at the same time.
Matt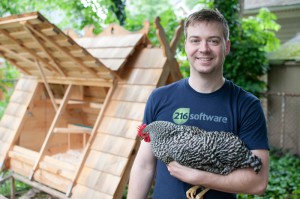 Matt started his career doing economic research and statistical analysis. Then he realized he had an aptitude for programming after working with tools like SAS, perl, and the UNIX operating system.
He spent the next several years taking interesting graduate courses in computer science at night while working as a developer and then a technical lead for a team of developers.
In 2007, Matt walked out of the relative security of the corporate world and then co-founded OnShift, a web application that helps employers intelligently manage their shift-based work force.
Matt is also an avid organic gardener and backyard chicken keeper.
Rob
has been working for start ups in various industries for the past 5 years. These start ups range from signal analysis to medical devices to business to business lead generation. These various experiences help Rob to bridge the gap between your specific business process and your software needs.
Rob enjoys biking in his free time, and is involved with the organization, Heights Bicycle Coalition. He also enjoys listening to and writing about music, which he does (along with his brother) on the blog Vinyl Hermanos. If Rob's not inside on a computer, you can probably find him playing soccer or taking a walk through the neighborhood.